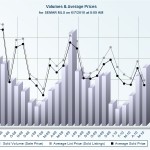 The total volume of homes that closed in May topped $33 million, the highest volume since last June's volume of nearly $53 million and falling just short of May, 2009's $33.8 million. The average list price of new listings in May was $235,215 with the average of all active listings slightly below that at $231,027.  The average sold price was $164,181, 98.2% of the asking price.
As expected, May home sales dropped off sharply following the end of the Home Buyer Tax Credit opportunity.  The Credit deadline coincided with the typical annual decline of sales as the spring selling season slows down with 134 homes going under contract in Rochester in May, 2010. There were less than half as many homes that went to pending in May than in April, 2010, and more than a third less than in May of 2009.  The average market time for these homes was just over a week shorter than a year ago and two and a half weeks longer than a month earlier.  Average list price was $190,471 (median $157,500).
New listings (183) in May were down 47% from a month earlier and 16% from a year earlier.  Median list price for these homes was $180,000 (average $235,214).
There were 1261 active residential listings in May, 4.3% fewer than in April but 19.5% more than May, 2009.  Average list price was $231,828 (median $174,900); average market time was 156 days.
For the latest in local real estate stats make sure to check out https://www.shawnburyska.com/real-estate-statistics.php
Shawn Buryska ABR, CRS, GRI
Coldwell Banker Realty
507-252-6745
www.ShawnBuryska.com